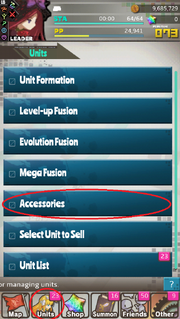 First choose unit tab on the bottom bar. Then Choose Accessories bar.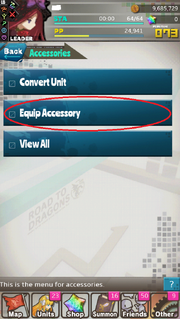 First you want to convert unit into accessories so choose that.
You will see your list of your units with accessories option. You can't convert unit you favorited or one in your 5 member party setups. That is why one Matilda is selectable and the other is not. 
Here, let's make Homemade Riceball . 5 star Ayame's accessory is very useful. You can see the detail of the accessory of the unit you select on the lower part of the screen. If you like it, then tap Convert.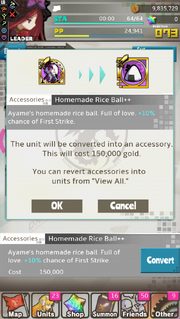 Tap convert again. You need 150,000 gold. 
Now, let's equip the accessory you just made!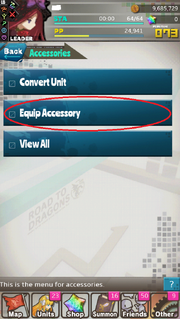 Get back to Accessory menu and choose Equip Accessory
OK. Let's choose the unit you wish to equip the accessory and tap it.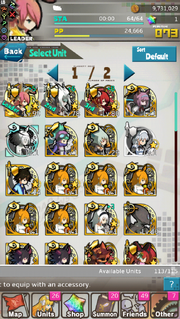 There are six slots. You can equip up to 6 accessories. Tap "Equip".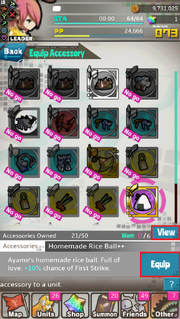 Select the Riceball and tap "Equip" then tap "View".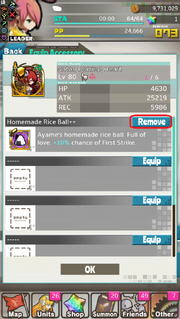 Now, Homemade Riceball is Successfully equipped to Natal, Blazing Heart. If you wish to remove it you can do so from this page or go to Accessories menu View All.
Ad blocker interference detected!
Wikia is a free-to-use site that makes money from advertising. We have a modified experience for viewers using ad blockers

Wikia is not accessible if you've made further modifications. Remove the custom ad blocker rule(s) and the page will load as expected.